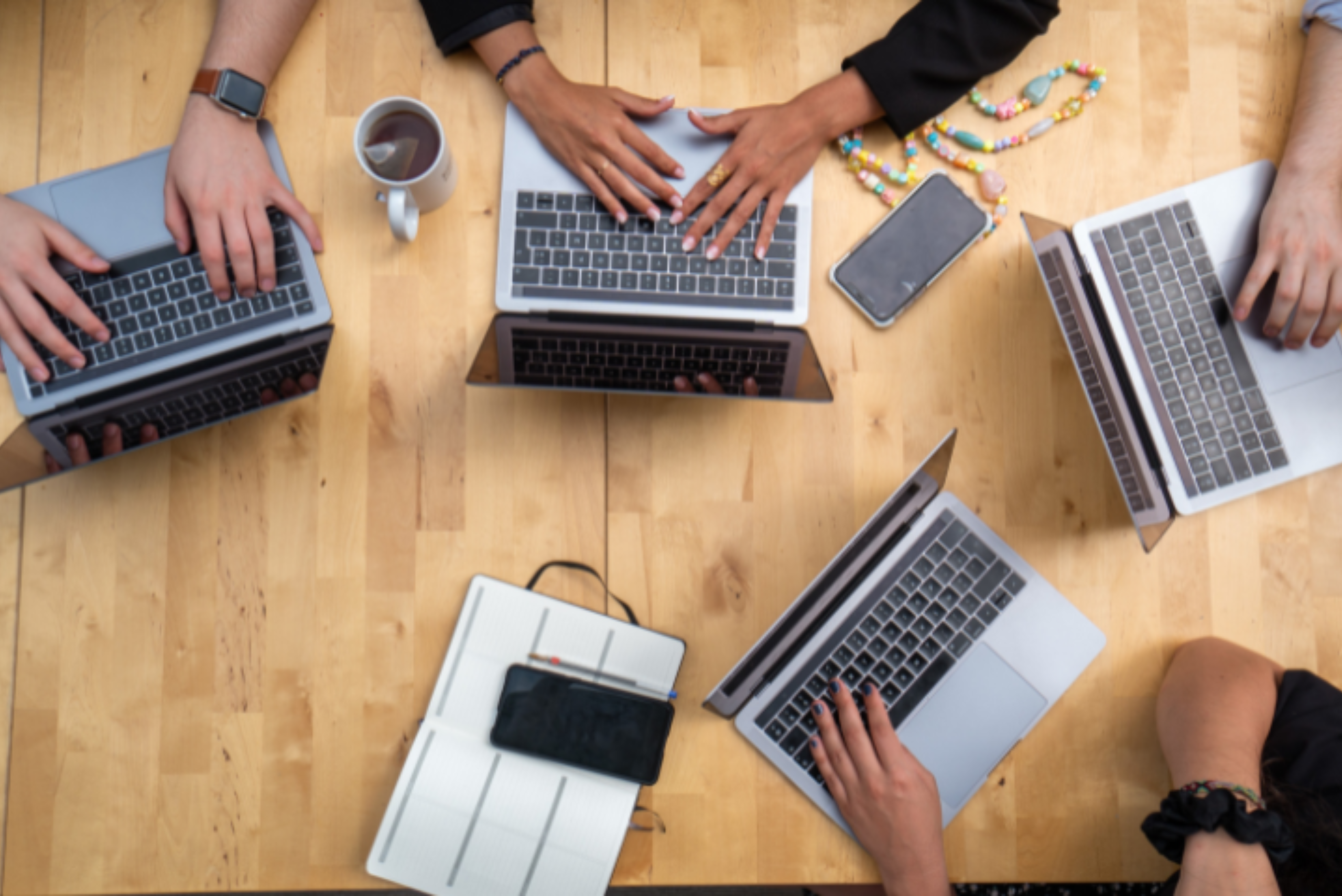 BigPicture: an add-on for project and portfolio management in Jira
BigPicture is a portfolio, product and project management application for Jira that belongs to the Atlassian add-on marketplace. This tool offers convenient workspaces for managing projects and project portfolios while offering a good data visualisation.
In this article, we analyse the functionalities offered by BigPicture within the project management ecosystem.
Approaches to project management
In the current complex world, flexibility seems to be the number one condition for successfully navigating the challenges of the ever-changing business landscape, the inevitable market twists and turns and the abrupt economic changes.
This flexibility is also required in the way initiatives are executed. While agile is still on the list of many organisations as the preferred method of project delivery, the more predictive and classical approach to project management is still applicable in many scenarios.
80% of teams reporting using hybrid methods. This figure reveals not only that project professionals need a diversified toolkit of approaches, but that there is a demand for software that can embrace this methodological diversity. And BigPicture is a tool that can do just that.
BigPicture offers instant, pre-configured templates for classic, hybrid and agile project management methods, including some of the most popular scaling frameworks such as SAFe® or LeSS®.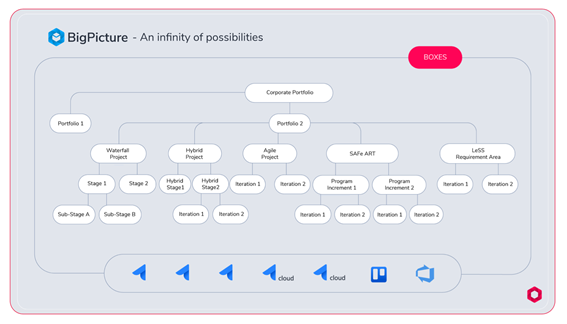 This flexible support makes it possible for organisations to run different initiatives by different teams under different approaches. For example, while software teams can deliver incremental value over several agile sprints, legal, finance or HR departments can run their time-bound initiatives using classic project templates.
It is possible to combine agile, waterfall and hybrid approaches in a single corporate portfolio or in several co-existing portfolios and conveniently track all of them simultaneously.
Process management in customised workspaces
Project management incorporates many associated processes, such as scope management, resource management, time management, risk management, financial management, etc.
BigPicture works with a set of interconnected tools that help manage these areas:
The 'Overview' module ensures clear visibility of initiatives across the portfolio with drill-down views, aggregated metrics and trackable key project indicators. The 'Dashboard' is a space where agile teams plan their effort and identify relevant dependencies. The 'Scope' visualises the multi-level hierarchy of tasks and helps manage work and report progress.
BigPicture's 'Gantt' diagram (also available as a stand-alone tool, BigGantt) deserves a special mention. With its timeline, extended scope/WBS panel, resource drop-down panel and handy mini-map to provide a view of long-term initiatives spanning several months/programme events, BigPicture's Gantt is four tools in one. Moreover, while traditionally associated with classic approaches, it can be conveniently transformed into an agile plan (or agile roadmap) when used in an Agile-based environment. Gantt helps to plan work over time, visualise project duration/value delivery, compare alternative schedules (with a "What-if" scenario function) and check the initiatives through practical metrics.
The 'Roadmap'shows objectives and targets and monitors progress against them. The easy-to-use risk matrix helps to identify and track challenges. Finally, the 'Reporting' module offers highly customisable functionality to aggregate and approximate relevant project data.
Each BigPicture module provides a functionality. Together, they form a comprehensive system that allows project professionals to manage different areas of projects:
build a timeline of projects/initiatives/tasks
manage the dependencies between tasks and teams
coordinate resources and distribute workloads
manage teams and set priorities
identify objectives
identify and respond to risks
Want to know how we can help you? Get in touch today 👉 marketing.en@atsistemas.com